Eucalyptus, refreshing and relaxing, a favourite in Spas, Steam Rooms and Saunas. Instantly recognisable fresh, sharp, camphoraceous top note and penetrating, woody undertones.
Tall evergreen tress with long and narrow leaves and small white/yellow flowers. Eucalyptus is one of the most well known of essential oils. Despite the uplifting and fresh scent, Eucalyptus is highly relaxing and calming as an oil.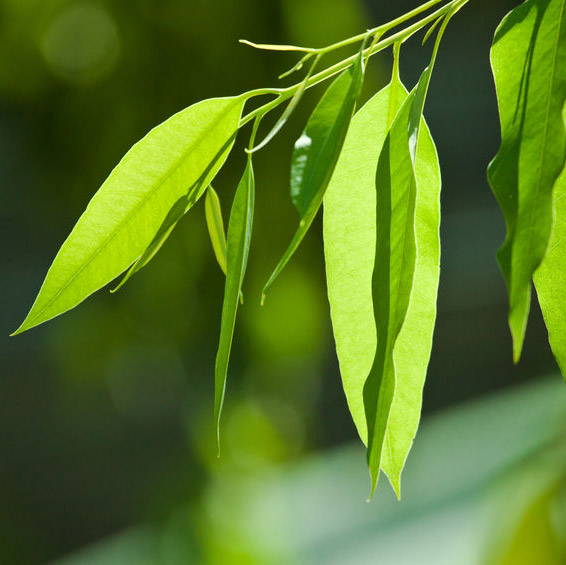 Characteristics of Eucalyptus Essential Oil
A recognisable fresh, sharp and piercing top note. Eucalyptus globulus has a characteristic fresh, camphorous scent.
Eucalyptus globulus is the most common and favourite variety of Eucalyptus.
Common Uses of Eucalyptus Essential Oil
Eucalyptus Essential Oil is one of the most famed and popular essential oil. The scent instantly recognisable, clearing and refreshing.
Eucalyptus Oil is one of the favoured scents in a Spa alongside Cypress, where it clears the air and promotes a feeling of wellbeing.
Skin
Many creams and ointments made for wound care contain Eucalyptus as a key ingredient as it is associated with wound care.
Mind
Eucalyptus is often associated as a stimulating oil, however it is just as effective as Lavender at aiding a good night's sleep, by promoting a sense of wellbeing and happiness in the mind.
Body
Eucalyptus oil can help ease pain. With natural anti-inflammatory properties. A study (1) in 2013 showed a significant improvement in pain for those inhaling Eucalyptus Oil for 30 minutes for three days in a row after a knee operation, compared to those that didn't.
Eucalyptus is one of the key ingredients in Vicks VapoRub, as the Eucalyptus component (Eucalyptol) seems to work as a natural decongestant and cough suppressant by helping the body break down mucus and phlegm and opening up airways.
Aroma
Eucalyptus essential oil is cleansing, clarifying and and useful for the respiratory system. It clears the air and makes for a relaxing, yet uplifting ambiance.
Precautions when using Eucalyptus Essential Oil
Avoid high concentrations. As with all essential oils we would recommended avoiding during pregnancy
Eucalyptus Essential Oil Technical Information
| | |
| --- | --- |
| Criteria | Information |
| | |
| | Anthemis nobilis (Roman Chamomile) Flower Oil |
| | |
| | Steam distilled from the twigs and leaves |
| | |
| | 100% Pure Essential Oil, therapeutic grade |
| | Citronellal (Aldehyde), Cineole (Ketone), Camphene, Fenchene, Phellandrene, Pinene (Terpenes). |
| | |
| | |
| | Eucalyptus Blends well with most other woods and herbs and is wonderful with Lavender, it also blends well with Benzoin, Coriander, Juniper, Lemon, Lemongrass, Melissa, Pine and Thyme |
| | |
| | Please see the Technical Tab below for SDS, Allergens information and IFRA Certificates |
Eucalyptus essential oil is a natural decongestant and helps supress coughs
Blends Well With:

Thyme, Lavender, Lemongrass, Lemon, Pine, Grapefruit

Contraindications:

Avoid During Pregnancy, Care should be excercised with high blood pressure, May cause headaches in large doses

Country of Origin:

China

Latin Name:

Eucalyptus globulus

Traditional Physical Properties:

Warming for muscular pains, sprains and poor circulation

Part of Plant Used:

Leaves & Twigs

Purity:

100% Pure

Scent:

Clear, Fresh, Distinctive and Penetrating

Key Benefits:

Uplifting / Refreshing

Traditional Emotional Use:

Refreshing, Uplifting, Spa, Pamper, Relaxing

Traditional Skin Use:

Cooling, Deodorising, Insect Bites, Blisters, Wound Infections

HS Code:

33012941

HS Description:

Eucalyptus Essential Oil

HS Country:

CN

HS Composition:

Viscous Liquid
Eucalyptus Essential Oil Safety Data Sheet (SDS)

Eucalyptus Essential Oil The SDS can be downloaded by Clicking Here

Eucalyptus Essential Oil Technical Data Sheet (TDS)

Eucalyptus Essential Oil The TDS can be downloaded by Clicking Here

Eucalyptus Essential Oil Certificate of Analysis (COA)

Generate the certificate of analysis for your purchased product by entering your Batch Number which can be found on the packaging of your product.
Eucalyptus Essential Oil Allergens Declaration
Generate an allergens declaration for your purchase (essential oils only)