with Clotted Cream and Jam
A LITTLE TREAT IN THE HEART OF OUR FARM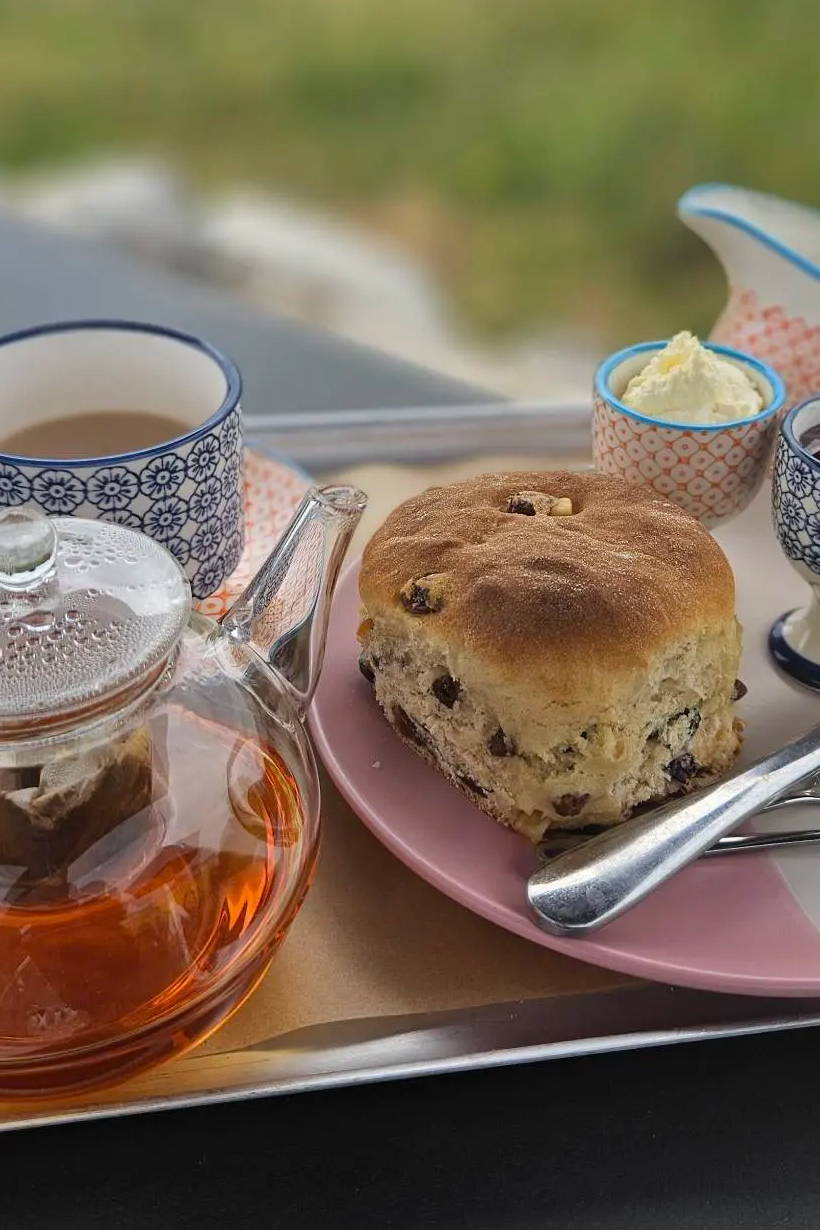 The tradition of Cream Tea is one that dates back to the 1800s and it is still relevant today. It is a time to relax, unwind and connect with family and friends. At our farm, we invite you to indulge in our delicious homemade cream tea with our freshly baked scones. Our cream tea experience is the perfect way to spend an afternoon in the countryside, it is one of the highlights of our family run farm.
Our scones are freshly baked daily and are made using British butter and locally sourced flour. Our signature clotted cream and jam are also made using only the finest ingredients.
You can enjoy our cream tea while relaxing in our tea room, overlooking the stunning views of the farm, or out on the terrace, soaking up the sunshine. Perfect for spending some quality time with loved ones.
We have a choice of Plain, Fruit, Savoury and our most popular choice, Lavender Scones. Our Lavender scones are made with the Lavender grown on our farm.
We offer a take-home option as well, so you can enjoy the delicious taste of our scones, clotted cream, and jam in the comfort of your own home.
There is no need to book your Cream Tea, we are open 7 days a week and most bank holidays except Christmas and Boxing days. Please see our farm page for full opening hours.
Cream Tea for 1 - £5
Includes one large scone, tea (or choice of coffee), clotted cream and jam
Cream Tea for 2 - £9
Includes two large scones, large pot of tea (or choice of coffees), clotted cream and jam


Allergens Info
Ingredients: WHEAT FLOUR (WHEAT FLOUR, Calcium carbonate, Iron, Niacin, Thiamine), Sugar, Raising agent (Diphosphates, Sodium carbonates, Calcium phosphates), Palm fat, Rapeseed oil, Dextrose, BUTTERMILK POWDER, Maize starch, SOY FLOUR, Emulsifier (Mono- and diglycerides of fatty acids), Salt.
Allergens are shown in Bold
Contains : Gluten, Milk, Soya and Wheat
May contain : Egg